ALC Court Watch Releases Second Docket Report Illuminating Maintenance of Racial Apartheid Thru Arrest and Cash Bail in Allegheny County, Demands End Of Police Sovereignty and Pushes for Pre-Trial Freedom and Open Courts
APRIL 27 2021
PITTSBURGH – The Abolitionist Law Center's Court Watch program has published its second docket report. The report expands on the data collection and analysis of municipal court docket information following its inaugural report in December 2020 and is based on the arrest and arraignment data from 5,950 individual docket sheets compiled over the course of 140 days. The report examines two key actors in the development and maintenance of racial apartheid in the Pittsburgh region: police and judges.
According to the report, 1,658 police officers working for 126 different police agencies made 5,664 arrests that led to preliminary arraignments in Allegheny County between August 14 and December 31, 2020. Just 71 officers (4% of the total) made 20% of all arrests, and 30% of all drug arrests. In a county that is less than 13% Black, 56% of all arrests in the report period were of Black residents.
The report asks, "Is there anywhere in Allegheny County where African-Americans can escape the overwhelmingly greater risk of getting arrested?" ALC Court Watch says, "No." Seventy percent of all Pittsburgh arrests and 47% of all arrests outside Pittsburgh in Allegheny county were of Black community members, despite Black people only making up 23% of the Pittsburgh population – and only 9% of the county population outside Pittsburgh. The report also illustrates how Black men, who make up less than 7% of the county population, were subjected to 33% of all misdemeanor arrests.
The report examines data on arresting officers and affiliated departments. Top arresting officers (officers who made the most arrests) include Larry Butler of North Braddock, a sergeant who made 30 arrests and is the subject of a 2019 federal lawsuit for the Fourth Amendment rights violation of a Black woman who filmed him during a traffic stop. The report's top arresting officer is Eric Cersosimo of McKees Rocks, who made 52 arrests. Cersosimo was solely responsible for more than a quarter (29%) of all arrests in McKees Rocks between August 14th and December 31st, 2020.
The report also points to the jurisdictions of West Mifflin, Brentwood, Frazer Towsnhip and Pittsburgh as case studies for contextualizing racialized arrest data and police terror in the region. Several officers in the docket report were members of the racist and transphobic Facebook group, "Pittsburgh Area Police Breakroom"; had brutalized a young Black girl on a bus in 2020; and in the case of Pittsburgh, had salaries of more than $140,000 in 2019.
Just as Black community members are more likely to face the violences of arrest and detainment by local police, they are also more likely to face the financial violences of cash bail imposed by local judges. According to the report, Black defendants are 26.5% more likely to be subjected to secured monetary bail than non-Black community members, meaning they must pay their bail amount in full – typically thru a professional bail bondsman – or else be forced into confinement at Allegheny County Jail. A total of $23,450,587 in bail was imposed on 1,643 defendants, an average of $14,273 per defendant, from August 14 to December 31, 2020 by magisterial district judges.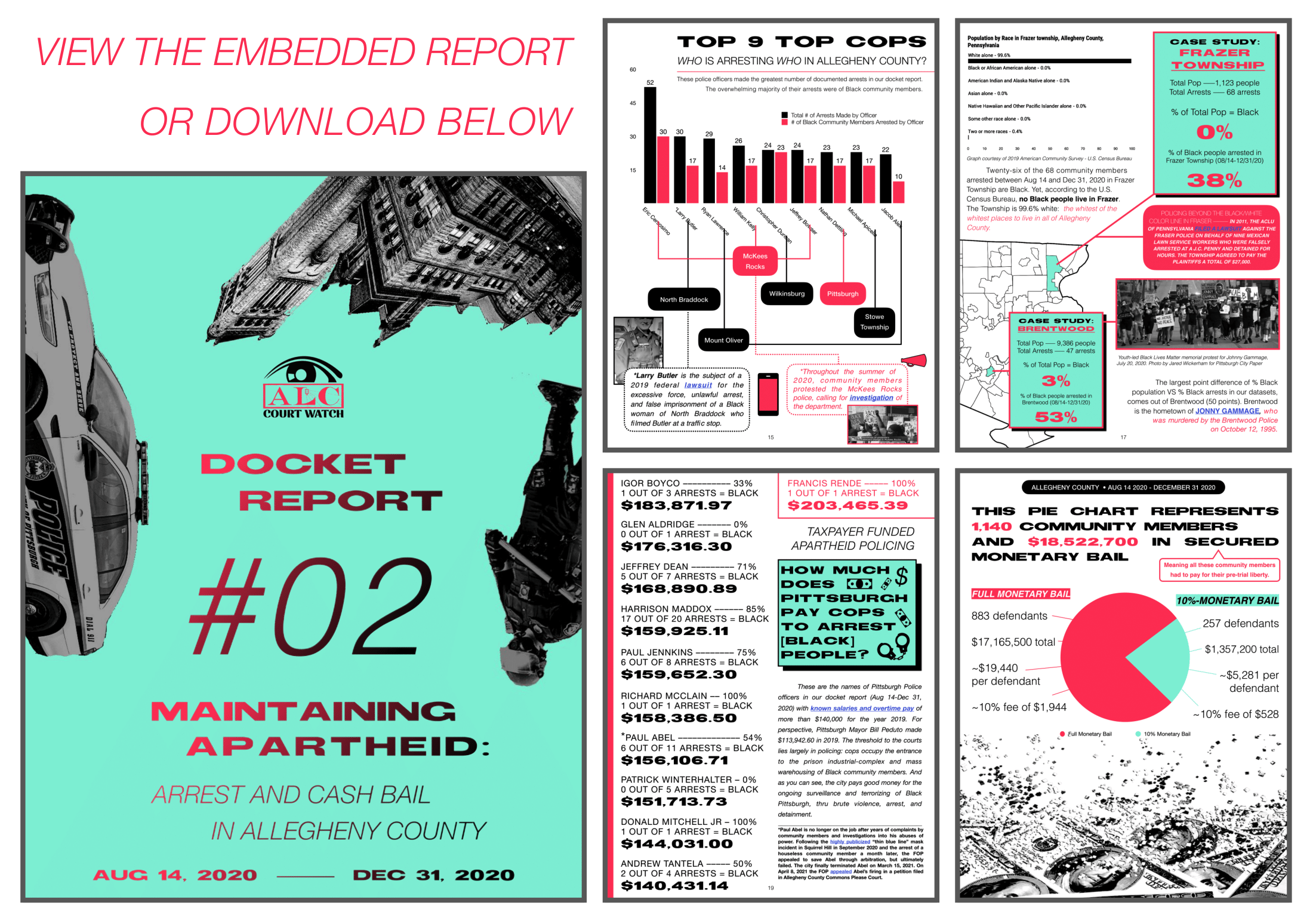 The report shows how bail setting practices of local magistrates vary wildly and are arbitrarily set, revealing there is no real standard for how cash bail is imposed in Allegheny County. In their data analysis, Court Watch volunteers controlled for two different groups of judges and 20 different offense variables, finding that a defendant's risk of having secured monetary bail imposed was nearly 5 times greater if they were assigned to one group of judges rather than another. In other words, whether or not defendants will have to pay for their pre-trial freedom is merely based on who their judge is. But volunteers found that across the board, for every judge and for every alleged offense scenario, Black community members are still more likely to face secured monetary bail than white community members. The report states that District Court Judges Regis Welsh and Robert Ford were among the top judges to impose secured monetary bail most frequently.
Director of ALC Court Watch, Autumn Redcross notes, "This report only quantifies on paper the lived experiences of actual folks represented in the stats. The truth is, for myself, my family and those who look like me, we move throughout our lives and in this city differently because of the apartheid conditions that determine and limit our liberty."
The report concludes with the three key demands. The first demand calls for the end of police sovereignty by explicitly defunding the police and investing in community programs. This includes separating traffic enforcement from police departments and ending automatic detainment for misdemeanor charges. The second demand is pre-trial freedom for community members, urging magistrates to end the imposition of cash bail and probation detainers, and cease alternatives such as racialized "risk assessments". The final demand vies for continued open court access, stating transparent courtrooms is "what moves us closer to a participatory justice system that is satisfying to the people whom it purports to serve".
FOR PRESS INQUIRIES: William Lukas, Communications Director, wjlukas@alcenter.org